Turn Your Passion For Creating lasting Change Into A Thriving Career & Get Paid To Change Lives

Are serious about starting a coaching career?
Here is a Free Preview of this course to help you decide if this is the right career path for you.


WELCOME TO SCHOOL OF LIFE - NLP & LIFE COACH TRAINING ACADEMY
School of Life is an internationally acclaimed and accredited Life Coach and NLP training academy. We offer a range of personal development & certificate courses both online & face to face.
Whether you want to get more focused in your personal or professional life, or want to pursue a career as a professional Life Coach or NLP Practitioner, we can assist.
Our content includes only the most credible, tried and tested global NLP and Coaching methodologies. All courses are presented in a practical, fun and inspirational manner by Master Coaches. This means that not only will you learn how to effectively apply coaching methodologies, but you will experience personal transformation at the hand of every coaching technique. 
We are notorious for the world-class coaches we train, making School of Life accredited coaches the most sought after coaches in the world. It is a well-known fact that our standards are a cut above the rest.

Want to know if coaching is the right career path for you?
Schedule a 15 minute FREE Coaching career guidance meeting with one of our coaches to find out.

WHY YOU SHOULD CONSIDER A CAREER AS A LIFE COACH.

DO WHAT YOU LOVE & LOVE WHAT YOU DO
"The number 1 thing you will spend your waking hours doing, is working.
The average person works the equivalent of 4745 full days, which is why it is so important to do what you love.
If you don't love your job, quit it, and find one that you do love. Otherwise you will spend the majority of your waking life doing something that you hate."


COACHING IS THE 2ND FASTEST GROWING INDUSTRY IN THE WORLD!!!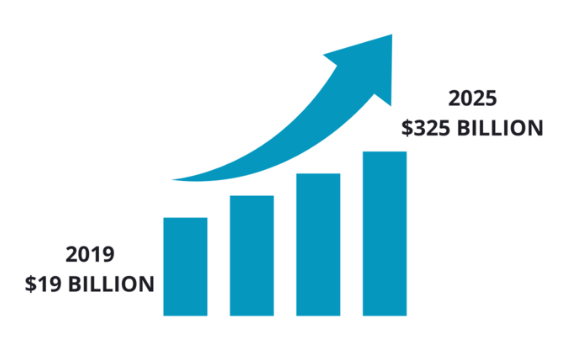 $19 Billion per year industry.

The coaching market was estimated to be worth more than $19 billion in 2019, up by 5.6 percent compared to the previous year according to recent estimates by IBISWorld.
However, this seems to be just the tip of the iceberg. The global e-learning market, which mainly involves online coaching and digital learning platforms, is expected to reach a combined value of more than $325 billion by 2025.

WHAT ABOUT ACCREDITATION


School of Life is an ICR (International Coach register) accredited & approved coach training agency.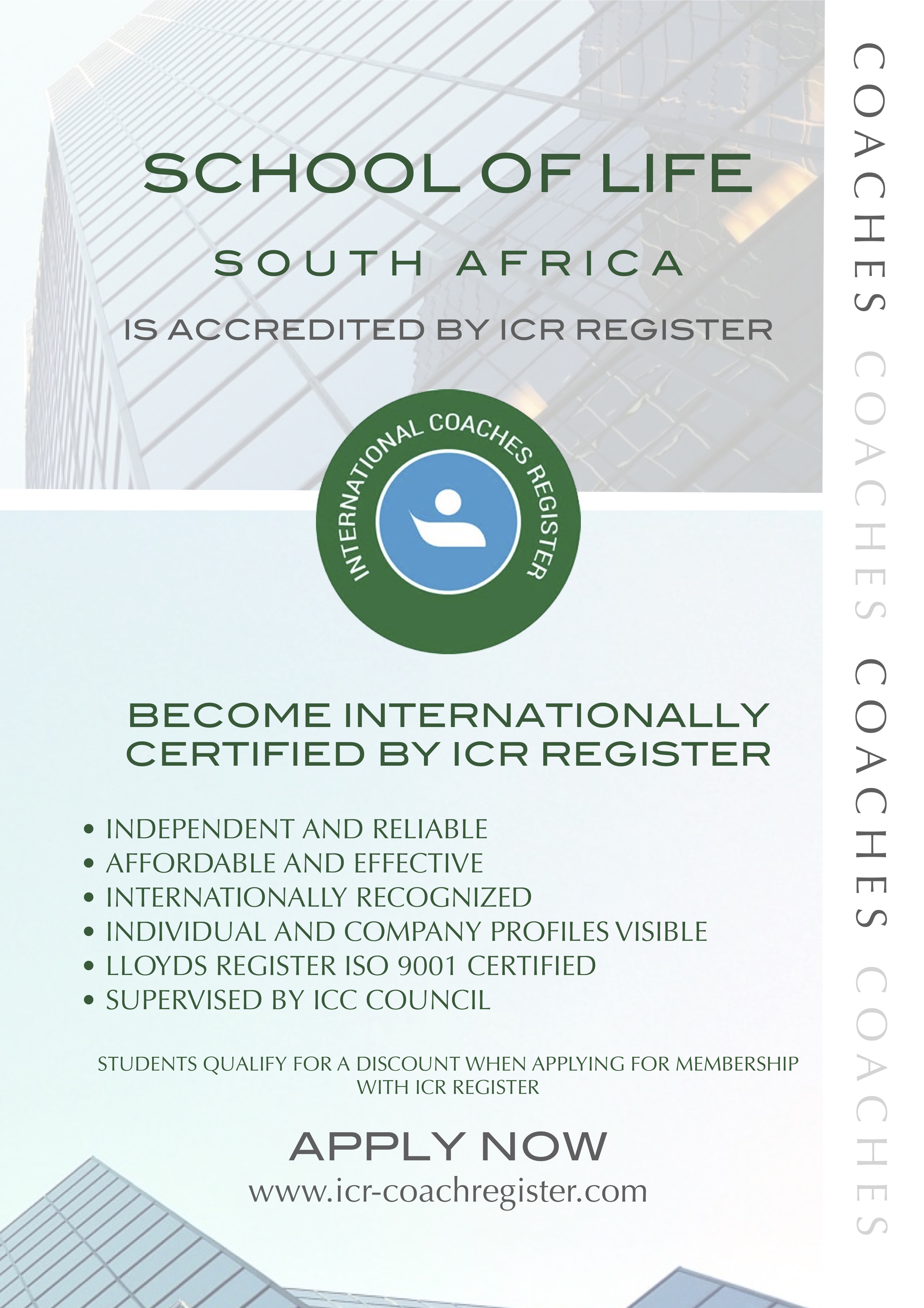 Global mark of excellence.
ICR Coach Register records and certifies ICR coach practitioners & is the global mark and register for well-trained ICR coach practitioners.
Distinguished Coaches
ICR Coach practitioners work locally, nationally and internationally and are connected to a variety of sectors and are distinguished by specializations.
International Accreditation
​ICR Coach Register holds several international accreditations, such as ISO 9001, QAP IMI.
Carolyn Haasbroek Melnick
*****
"School of Life has had a tremendously positive affect on my life. I have been wanting to study coaching for many years. Their courses are put together in such a way that made me really excited to be on this journey. The tools they provide you with will ensure that you are a really good coach.
Over and above that, they encourage us to become the best version of ourselves so that we will be able to help others to do the same. I have been studying online and their online learning portal is really easy to use and you can see at a glance how far you are with your studies.
Their videos are entertaining as well as educational, with a combination of videos to watch, worksheets to complete and practical exercises. I would recommend their courses to anyone who wants to study coaching. There is no excuse - with their online courses, you can do it in your spare time, at your own pace and it doesn't matter where you are located."
Elza Botha
*****
"I've done the Life coach and NLP course through School of Life. The content is terrific and life changing. The instructors are captivating and truly amazing. The School of Life was supportive and accommodating during the uncertainties of Covid. Thank you SOL for changing my life."
Carl Cilliers
*****
"Thought the course and online process may be a challenge... well what a pleasure.
From the first initially engagement to becoming totally engulfed in learning again and taking in as much as I can.
Placing it all into a easy to use package, we'll structured and thought provoking.
If you are still thinking about it, you are only creating delay in your own life... now is your time."
Letitia Fourie
*****
"As a Life Coach I am always looking for courses to broaden my knowledge to give my clients the best and the course did just that! The course content was very insightful and the growth I experienced as a person and coach was really phenomenal"
Letitia Fourie
*****
"The institution is amazing and had aided in my growth a lot. They give you the tools to evaluate your life and strive toward the best version of yourself. I would definitely recommend this institution!"
Sammy Samuels
*****
"The institution is awesome.. They not only train you to be the best coach but they coach you to be the best version of yourself. Thank you so much for the wonderful content. Keep on doing great!"
Lee Anne Dhor ie
*****
"The value of the course content and the brilliant service makes this institution one of preference. I did my research and settled on School of Life Coaching Academy due to their quick feedback, the personal service and efficiency demonstrated all through the process. I would highly recommend them to anyone looking to broaden their coaching and NLP knowledge or make a new career start!"
Inesh Dos Ramos Muller
*****
"I absolutely loved learning from School of Life, my intention was to become a Life Coach to help others grow but instead, I grew. The course presentation is brilliant, I enjoyed Franco's energy. I felt challenged, inspired and motivated to be great. I recommend School of Life to anyone looking for their spark, you'll find it here!"
Andrea Abrahams
*****
Thank you SOL for the very insightful and interactive online Life Coaching Course. Your patience and determination to help me succeed is greatly appreciated. Thank you for correcting all the administrative challenges, as well, during this time. My highlight was the NLP course it was really great to learn from Janet and Franco. Two very dynamic and inspiring Life Coaches. Once, again Thank you for assisting me on this new Career Path. I am excited to continue learning many new techniques and models through you."

LIFE COACH LEARNING PATH
INTRODUCTION TO NLP & LIFE COACHING
Discover if Life Coaching is right for you before you buy a course

LEVEL 1 CERTFIEID COACH
Online & face to face certification classes available. Once you have completed this course you are certified to start coaching & charge for your services.

LEVEL 2 CERTFIEID COACH
Certified Coach professional development. Complete these courses to be accredited as a Level 2 coach.

LEVEL 3 CERTFIEID COACH
Certified Coach professional development. Complete these courses to be accredited as a Level 3 coach.

LEVEL 4 CERTFIEID COACH
Certified Coach professional development. Life Coach Higher Certificate. NQF 5 Life Coach + NQF 4 Mentor

START YOUR OWN LIFE COACH BUSINESS